October 4, 2017
Top 5 Autumn Outdoor Activities in Topanga, Los Angeles
By: Karina Anastasia Roche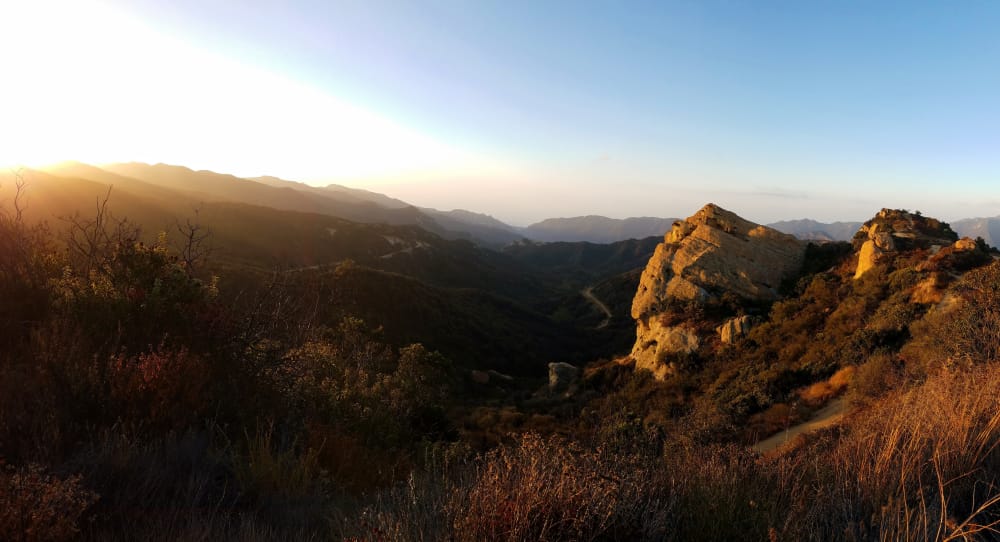 Did you know that one of the best times to visit Los Angeles is in early autumn?
The L.A. area is known for its delightful weather and multitude of year-round attractions, from theme parks to museums to California's natural beauty. But seasoned travelers to the area and locals know how to use Southern California's cooperative weather to their advantage: to beat the crowds, score lower ticket prices, and have more of its beauty to themselves. September and October are the "sweet spot" time period for visiting the area--although school is in session and most vacation periods have ended, California's summer doesn't end in September. There's little fear of rain or a gloomy day ruining your vacation. In fact, September can be amongst the hottest months of the year, extending typical beach weather by a month--but with a hint of pleasant breezes that suggest the arrival of cooler weather. If you're wondering when to travel to Los Angeles, there are few times better than autumn. To help you plan your travels, we have compiled this cheat-sheet to experiencing an L.A. summer vacation during autumn, all only a short drive from the Topanga Canyon Inn.
1. Outdoor Adventures in Topanga Canyon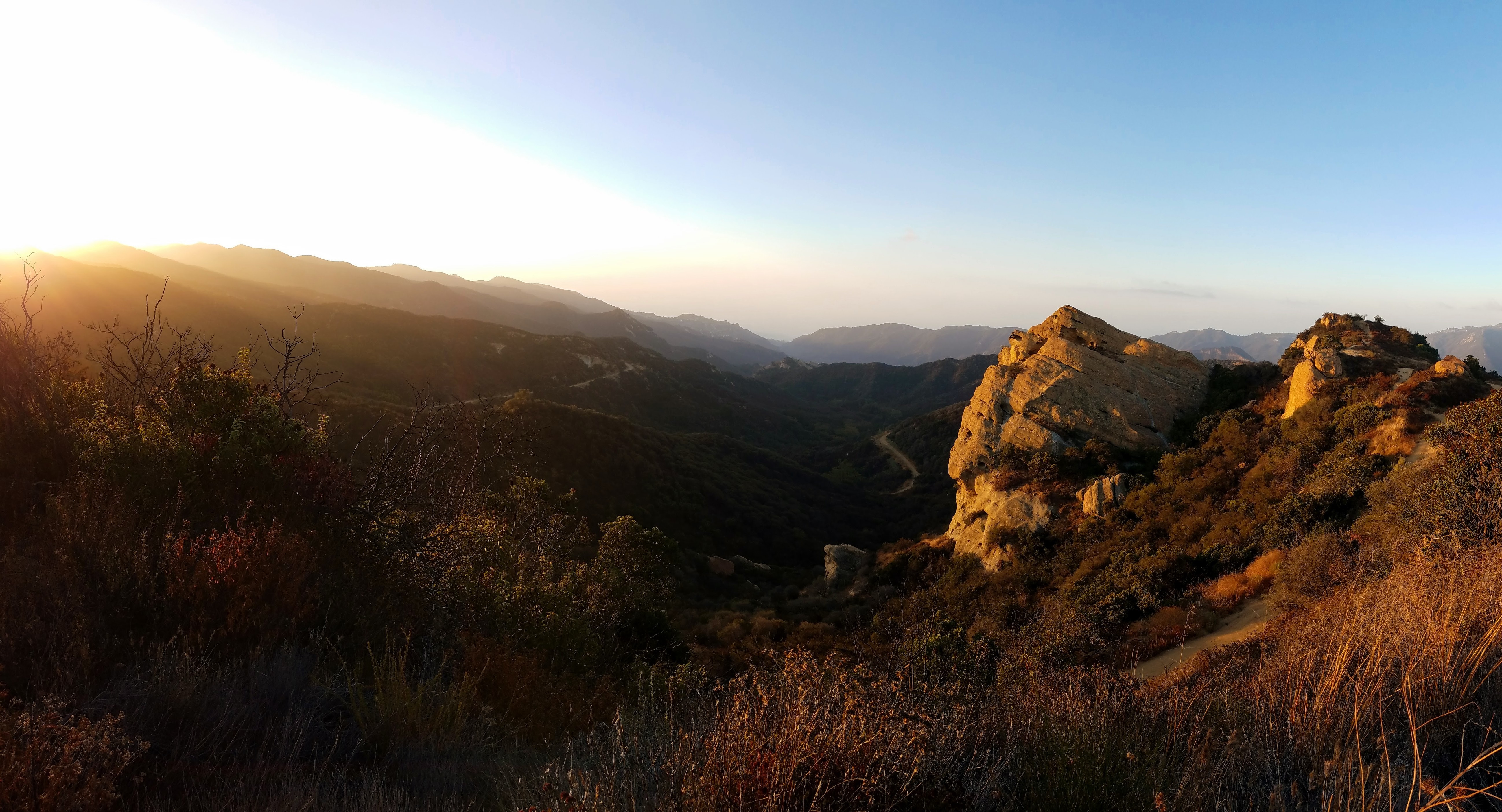 Sunsize at Eagle Elephant Rock from the trail near Topanga Canyon Inn
Your outdoor adventures begin in Topanga Canyon. Behind the famous high-rise buildings of Los Angeles, the Santa Monica Mountains tower even higher, beautifully contrasting a natural silhouette with the man-made structures that populate the City of Angels. Escape the bustle and the noise of L.A. into Topanga Canyon, however, and you will find yourself in an entirely different world. Many of our guests remark that they can hardly believe they are in L.A. while staying with us in Topanga Canyon--it is one of the most secluded and peaceful places in Los Angeles. Explore the mountains by hiking or mountain biking in Topanga State Park (you can rent bikes from Topanga Creek Outpost) and enjoy the refreshingly cool mornings and breathtaking sunset views of purple mountains and glowing sandstone rock formations. Or, if you prefer to explore on horseback, L.A. Horseback Riding is a very reputable horseback riding service located right in the heart of the canyon. All these excursions are only short drive from the Inn and the Topanga Pine Tree Circle Village. When it comes to outdoor activities, Topanga Canyon has it all.
2. Beautiful Beaches Near Topanga Canyon Inn
To get your feet wet or catch some waves, drive over to Topanga State Beach, Malibu Lagoon State Beach or Malibu Surfrider Beach. Topanga Beach welcomes you with the sound of waves as you exit the beautiful drive through the canyon cliffs and meet Pacific Coast Highway. Turn left and find your free parking spot along the coast or turn right and park at the paid parking lot. Many locals park alongside the highway where signs permit. Continuing North on PCH will take you to Malibu. Malibu Lagoon State Beach is one of the most beautiful beaches in the Los Angeles area. The creek pours into the ocean, creating a scenic lagoon where countless bird species come to feed and nest. The recently renovated park has many seating areas, observation decks, and paths that take you throughout the lagoon and down to the beach, which ranges from sandy to rocky. While you're there, make sure to visit the historic Adamson House museum, a Spanish-style house located on the beach and adorned with colorful tile. Next door you'll find Malibu Surfrider Beach and Malibu Pier--a great stop for seafood over the sea. This area is also popular for swimming because, sheltered by Malibu Lagoon, the waves are gentler.
3. Serene Hikes and Beach Day at Point Dume & Zuma Beach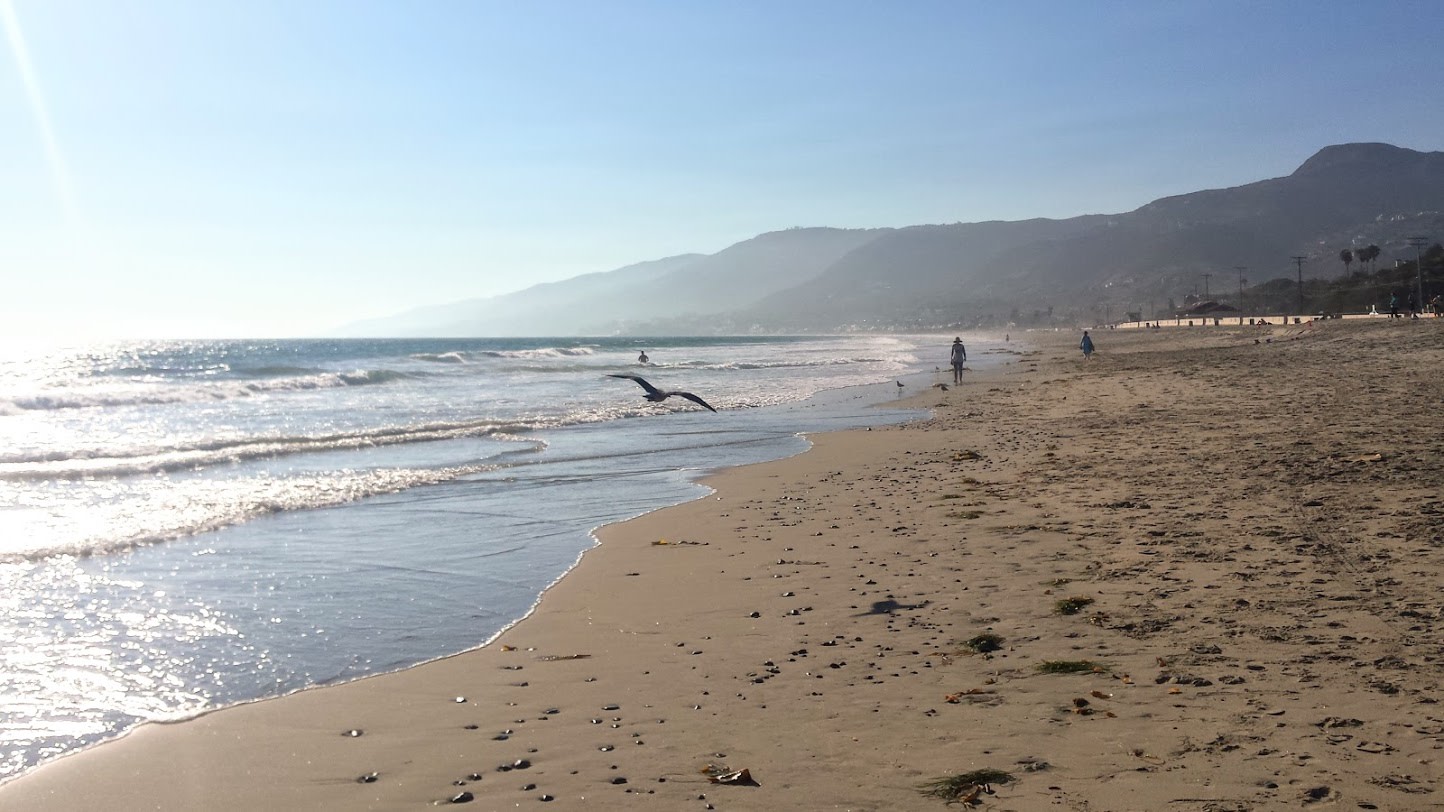 Amongst the beaches we list to our guests when they inquire about beaches, Point Dume is another frequent favorite. Hike to the top of the bluffs on one of the trails in Point Dume Nature Preserve, and you will be rewarded with stunning views of the Santa Monica Bay and the Pacific Ocean. There is a viewing deck with benches where you can rest and soak in the sights, and perhaps spot some sea lions frolicking on the narrow beach below--or, visit at night during the full moon and watch it rise directly over the ocean, casting silver moonlight on the waves as the mountains glitter in the distance. For a long walk perfect for conversation or a lovely date, drive down to Zuma Beach, a 4-mile beach of soft sand stretching from Westward Beach under Point Dume (the south end of Zuma) all the way to Broad beach (the north end).
4. Hiking and Swimming at Scenic Malibu Creek State Park and the Rock Pool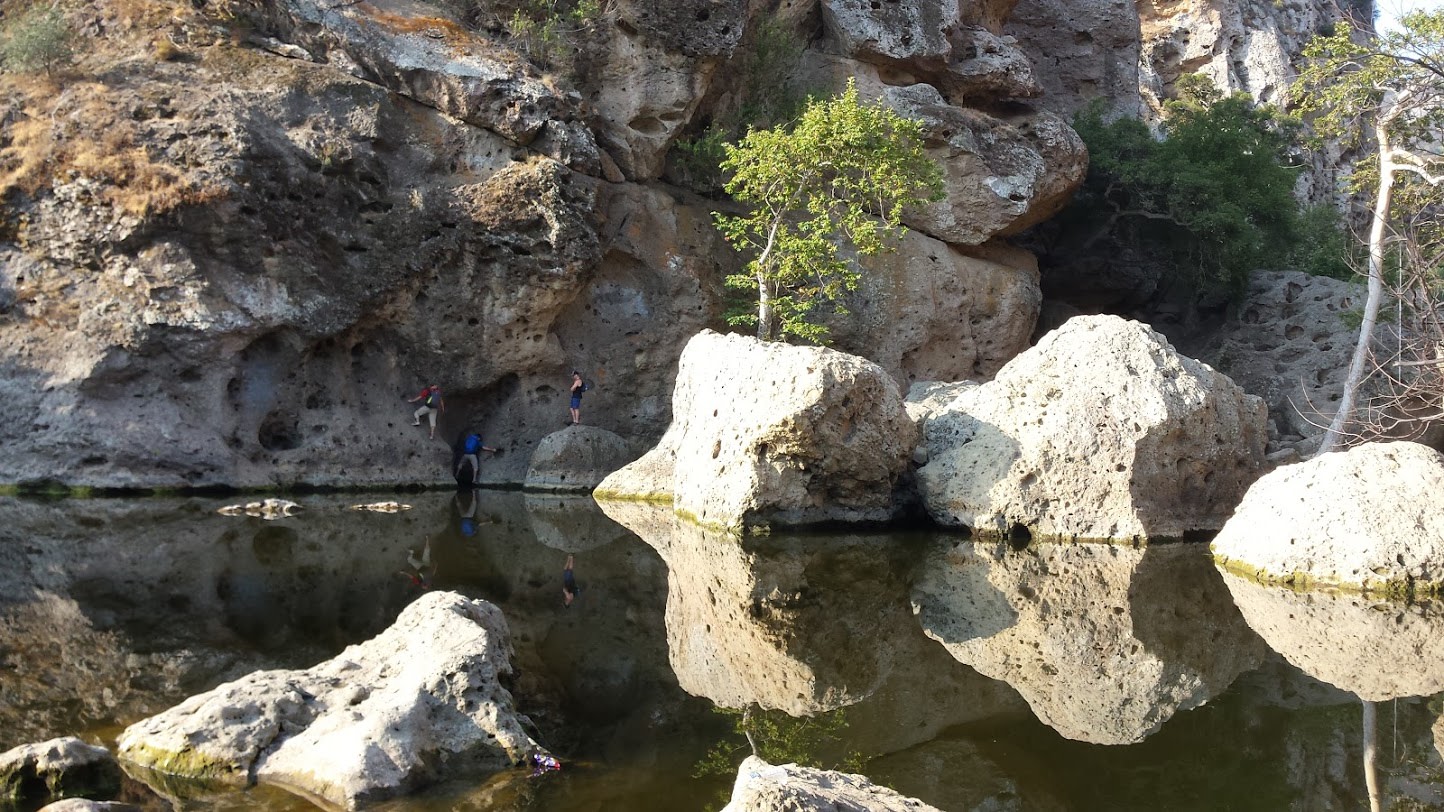 Malibu Creek State Park looks picture-perfect--and some guests remark that they feel that they've seen the area before in film. This Hollywood-favorite spot was the location where M.A.S.H. was filmed, and the contrasting landscape of creek-cut meadows, golden in the autumn, and looming mountains and brooding oak trees makes it obvious as to why. Discover one of L.A.'s best-kept secrets and take a 2-mile loop trail hike to the Rock Pool: a secluded pond deep enough for swimming; framed by large stones and shaded under trees, it is an image from a fairy tale but (as of yet) fairly unmolested by crowds.
5. Outdoor and Coastal Dining
Photo courtesy Saddlepeak Lodge
When coming to enjoy the summer-in-autumn California weather, take advantage of the opportunity to eat outdoors, too: you have so many choices. The restaurants listed below, just a short drive from the Inn, are only the tip of the iceberg:
128 Old Topanga Canyon Rd, Topanga, CA 90290
A dining experience that combines the natural beauty of Topanga Canyon with its reputation as a hippie community, the historic 1970s Inn of the 7th Ray is perhaps the most characteristic restaurant of the Canyon that you could find. It is also probably the most romantic place in the Canyon--and amongst the most romantic in Los Angeles, if not #1--with a majority of its dining located outdoors by the creek, under canopies cast by tree branches. The vines crawling over archways, adorned with fairy lights, will make you feel like you've stepped into Shakespeare's "A Midsummer Night's Dream" as you enjoy their uniquely crafted California cuisine.
327 Latigo Canyon Rd, Malibu, CA 90265
The Malibu Café, tucked into the mountains behind Malibu, offers rustic and gourmet outdoor "New American" dining at Calamigos Ranch. They describe their cuisine as "nouveau barbecue," and you can see why: it feels like a fresh combination of California dining with your classic cowboy barbecue joint. Eat under umbrellas out on the lawn, hidden away under wooden arbors, or alongside the lake. A short drive north of Point Dume, it is a perfect ending to a day spent at the beach or hiking.
419 Cold Canyon Rd, Calabasas, CA 91302
The Saddlepeak Lodge is another local classic in the Malibu Mountains, best described as upscale forest cabin dining, and right next door to Malibu Creek State Park. Heavy wooden walls, stone fireplaces, and deer busts meet white tablecloths, lovely bouquet arrangements, fine art, and walls of bookshelves. Outside, find a romantic seat for two, nestled in the greenery and lit by a chandelier suspended from an oak tree beam. Try one of their elk, emu, or quail dishes and enjoy this unique and beautiful spot, complete with strings of lights and a waterfall.
Southern California's landscapes are a wonder to experience, and we are spoiled double by its impeccable weather, which allows us to enjoy these wonders beyond the busy spring and summer months. Come enjoy summer in autumn while you can--and before the secret gets out. Start your adventures by booking your reservation with us at the Topanga Canyon Inn. After that, all you have to do is step outside the door--and begin exploring.