April 3, 2018
Spicy Fried Potatoes Recipe (Vegan) - Topanga Canyon Inn Recipes
By: Karina Anastasia Roche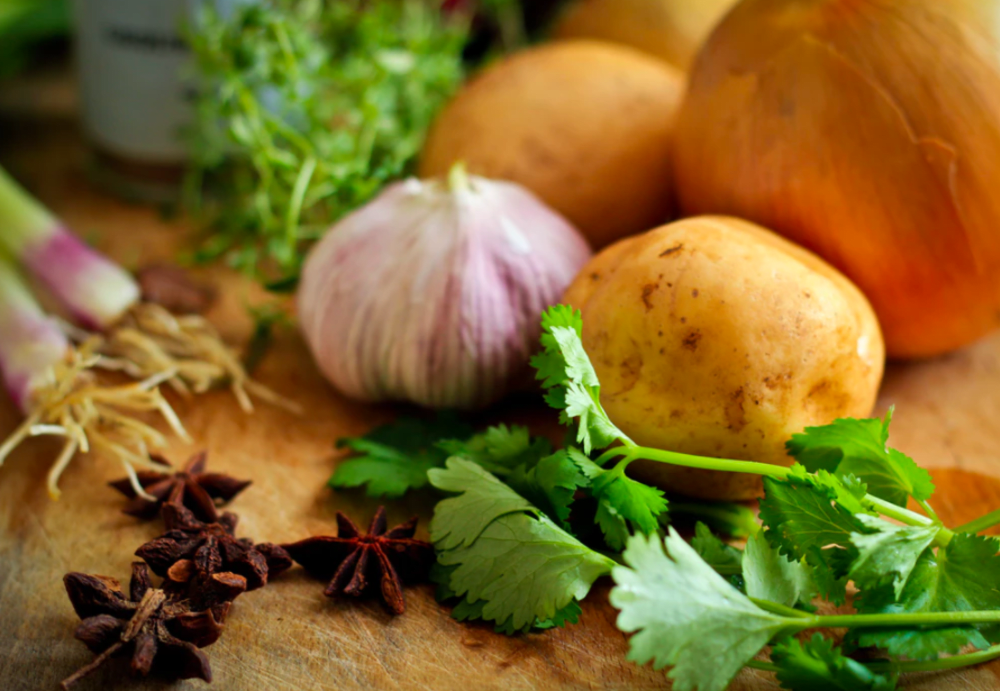 Every now and then we like to share some of our recipes on this blog. Guests are always asking us how we create our signature Topanga Canyon Inn Breakfast, and we are more than glad to spread the gift of good cooking, such as this spicy fried potato dish.
This recipe is one of our favorites to cook for breakfast. It's easy to make for big crowds (perfect for a bustling Sunday morning), and satisfies almost every guest, vegan, vegetarian, and omnivore alike. Not only is it a much more interesting and delicious potato alternative to your traditional hash-browns, but the tossed vegetables, olive oil, and spices make it a healthy dish.
There are several versions of these potatoes you can make--you could experiment with potato recipes all day. Our favorite, after nearly 10 years of cooking and experimenting, is the vegetable- and Granny Smith apple-tossed potatoes. The onions, bell peppers, and garlic give these potatoes a full-bodied savory flavor, while the green apples masquerade as potato slices for a delightful sweet-and-sour surprise and crunch. For the softest flavor, use gold potatoes--we found that they produce the best flavor in this kind of dish. Of course, these potatoes wouldn't be the same without some parsley flakes, but adjust your spices and toppings as you desire.
For something more interesting and healthy than your rush-and-go donut and coffee, treat yourself to these potatoes any day of the week. Or cook them for lunch or as a dinner side--potatoes really are one of the most versatile ingredients there are.
SPICY FRIED POTATOES
SERVINGS: 4
PREP: < 10 minutes
COOK: < 25 minutes
INGREDIENTS:
4 medium size gold potatoes
1/2 onion
1 medium size red bell pepper
1 Granny Smith apple
1 garlic clove
1 tbs fresh or dried parsley
1 tbs seasoned pepper
1 tbs salt (or to taste)
1 tbs olive oil (to oil the pan)
1. In a large pan, heat the olive oil on high. While the pan is heating, chop your potatoes into bite-size chunks. (Note that thicker chunks will take longer to cook.)
2. Add the potatoes to the pan, and let them fry without a lid. Chop the onions, bell pepper, garlic, and apples. Mix the potatoes, and add the ingredients you just chopped.
3. Add the parsley, salt, and pepper. If the potatoes look dry, drizzle some olive oil over them and stir.
4. Cook on medium-high heat without a lid, and make sure to stir every few minutes so that the potatoes are cooked evenly. Remove the potatoes after 25 minutes, or when the potatoes feel soft when poked with a fork, and serve.
Tips and tricks: Cooking without a lid makes for crispier potatoes. While cooking with a lid on the pan will certainly speed up the cook time, the potatoes will come out mushy.
One of our favorite things about running the bed and breakfast is the breakfast itself. Not only is it a delight to serve and share our family recipes with others, but the look of joy on guests' faces when we bring out a stack of waffles or steaming eggs is a wonderful way to start the morning. Of all our review categories, we often score highest for the quality of breakfast.
We hope you enjoy this recipe in your own kitchen, or book now and come visit us at ours. There's nothing better than waking up to a filling home-cooked breakfast that will give you the energy you need to explore Los Angeles, Santa Monica, Malibu, or the surrounding area!