Many of our guests stay with us at the Topanga Canyon Inn looking for a getaway that feels secluded but is near Los Angeles's many attractions. The tranquil Topanga Canyon, known as the home of many artists, actors, and singers, also has many activities to offer. Read below to learn about activities that are just a short walk or drive away from the Inn.
1. Hike in Topanga State Park
5-10 min. (1/3rd of a mile) walk from Topanga Canyon Inn
Parking: When staying with us, leave your car at the Inn and walk up the road. Your hike starts outside the doors of the inn.
Tips: Make sure to bring one of our maps, included in the booklet in your room, and help yourself to lots of bottled water in our common kitchen refrigerators. The climate is dry in California, and it can also get hot in the summer.
Hiking is the most popular activity amongst our guests, whether they are coming to the inn to experience the countryside or explore Los Angeles. Topanga State Park's trailhead is just a third of a mile walk up the street from the inn. Many of our guests enjoy hiking up to the main feature of the park, Elephant/Eagle Rock, before sitting down to our 9AM breakfast—the walk there and back is about an hour total. Mornings tend to be foggy and cooler, allowing you to better enjoy the scenic views of Santa Monica Bay and the distant transverse mountain ranges. Elephant Rock (recently renamed Eagle Rock) is located at the first T in the trail, and overlooks the canyon and Pacific Ocean. Study the horizon for the silhouette of Catalina Island on a clear day, and see if you can spy a boat making its way across the bay.
2. Horseback Riding with L.A. Horseback Riding
16 min. drive from Topanga Canyon Inn
Parking: There is a small unpaved lot alongside the street. See their website for very detailed information on parking and directions.
Tips: Make sure you wear long pants and tennis shoes, they are required for riding.
Topanga Canyon is a popular area for horse lovers, and there are countless horse-friendly, scenic trails to visit. L.A. Horseback Riding has a variety of ride packages that you can choose from to recapture a sense of Old Topanga, including sunset and moonlit rides.
3. Mountain Biking with Topanga Creek Outpost
5 min. drive from Topanga Canyon Inn (to TCO shop)
Parking: Limited street side parking along Topanga Canyon Boulevard and the shop. Or, rent a bike, return to park at the inn if you are staying with us, and start biking up the street.
Tips: Make sure you fill out a rental request here.
Rent a bike from Topanga Creek Outpost (formerly Topanga Creek Bicycles), and explore Topanga on two wheels. Topanga is a hot spot for avid mountain bikers, as the trails range from moderate to extreme in difficulty. TCO has a group of friendly, committed bikers; join them for a Saturday morning ride in Topanga before the heat picks up.
4. See a Play at Will Geer's Theatricum Botanicum
5 min. drive from Topanga Canyon Inn
Parking: There is a small paid ($5) parking lot down the driveway on the theatre property, but many guests park alongside Topanga Canyon Boulevard once the lot is full. Guests with wheelchairs or walkers do not have to pay the $5 fee for the lot.
Tips: Wear a hat and sunscreen. There is some sun cover over the bleachers, but on sunny days it isn't quite enough. You may also want to bring a sitting cushion/pillow, and for cooler nights, bring a blanket to stay cozy. Book with us and choose a Play and Stay package to get discounted tickets.
During the summer months, come see a play in the historic outdoor theatre, the Theatricum Botanicum. Shakespeare is the most popular, and A Midsummer Night's Dream is played every year, although other playwrights' work is also performed. The theatre was started by Will Geer, close friend of famous country singer Woodie Guthrie, and is still run by his family—some of whom you will see performing in the plays.
5. Visit Boutique Shops in the Topanga Pine Tree Circle Village
5 min. drive from Topanga Canyon Inn
Parking: There are many free parking lots in the Topanga Village (also called Pine Tree Circle). For Jalan Jalan Imports, there is street side parking alongside Topanga Canyon Boulevard.
Note: There are many unique boutique shops in the Topanga Village, but these are our must-see stops.
1. Hidden Treasures Vintage
Some of our guests have stayed with us just to go see this eccentric vintage store. You'll know it by its distinct décor: the wooden pirates outdoors, a painted circus cart, and bright costumes on display behind the window. This is the perfect place to find a prize-winning costume for Halloween, or to add a unique bohemian flair to your wardrobe. Hidden Treasures espouses the heart of the hippie movement that made the canyon famous and attracted creatives.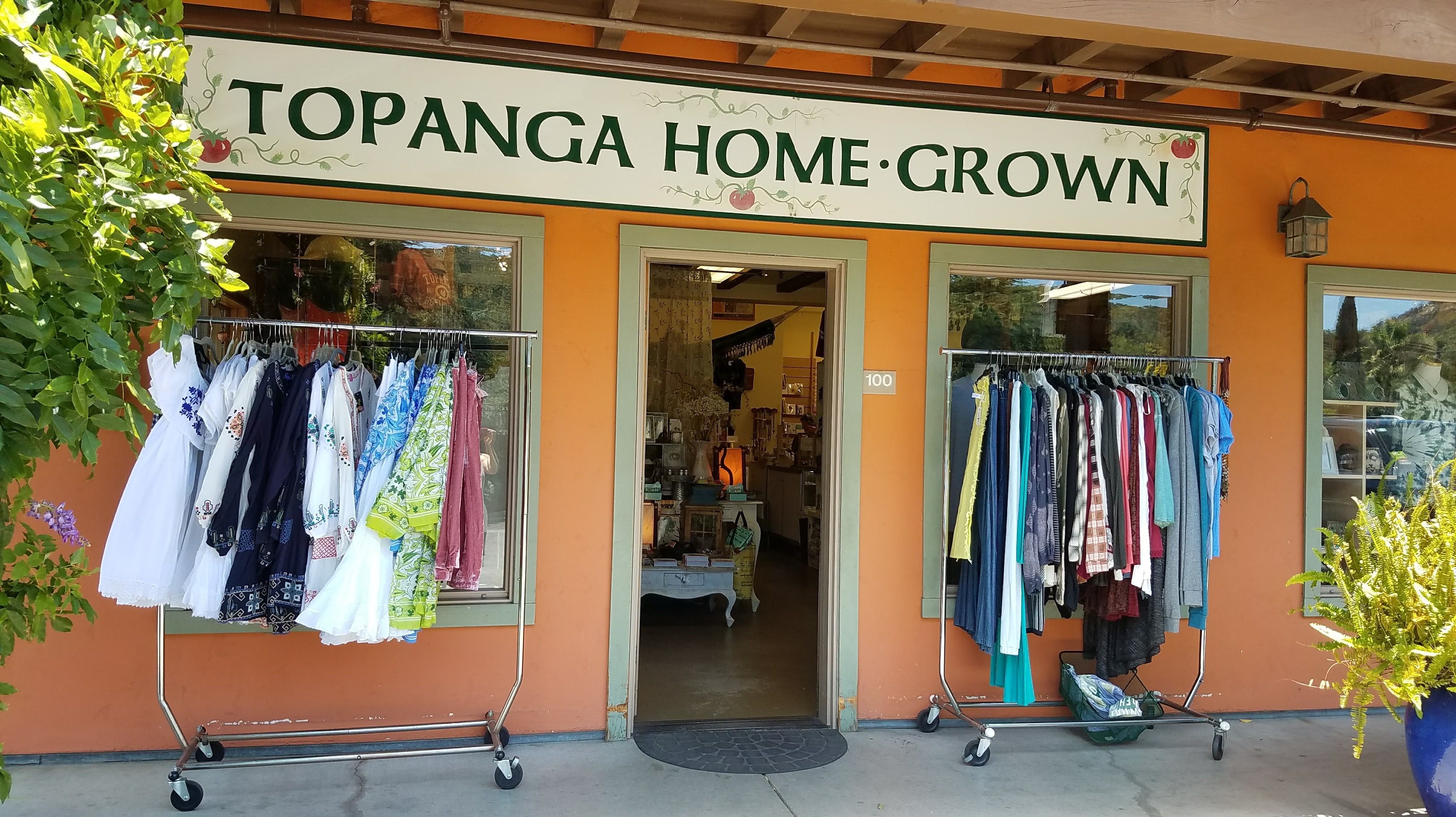 2. Topanga Homegrown
This is the gift shop of Topanga. Buy postcards, jewelry, Topanga T-shirts, and other mementos.
3. Topanga Canyon Art Gallery
View artwork from a variety of artists in the canyon, from potters, glassblowers, jewelers, painters, photographers, to mixed media artists. Plan to go on the annual canyon-wide studio tour in early June to see them at work and purchase their creations.
4. Jalan Jalan Imports
Jalan Jalan is the only shop on this list not in in the Pine Tree Circle, but it is worth seeing. It is the last stop before Topanga Canyon Boulevard begins winding through the steep part of the canyon on its descent to the ocean. It is located in the small Fernwood Village, adjacent to Topanga Village (if you drive from the Circle, it will only take you 2 minutes to get there). Jalan Jalan sells petrified wood, stones, jewelry, as well as sculptures and other household décor. Make sure not to miss the famous Owl Falls on the property while you are there.