April 13, 2018
The Tastiest Healthy Vegan Pancakes You'll Ever Have - Topanga Canyon Inn Recipes
By: Karina Anastasia Roche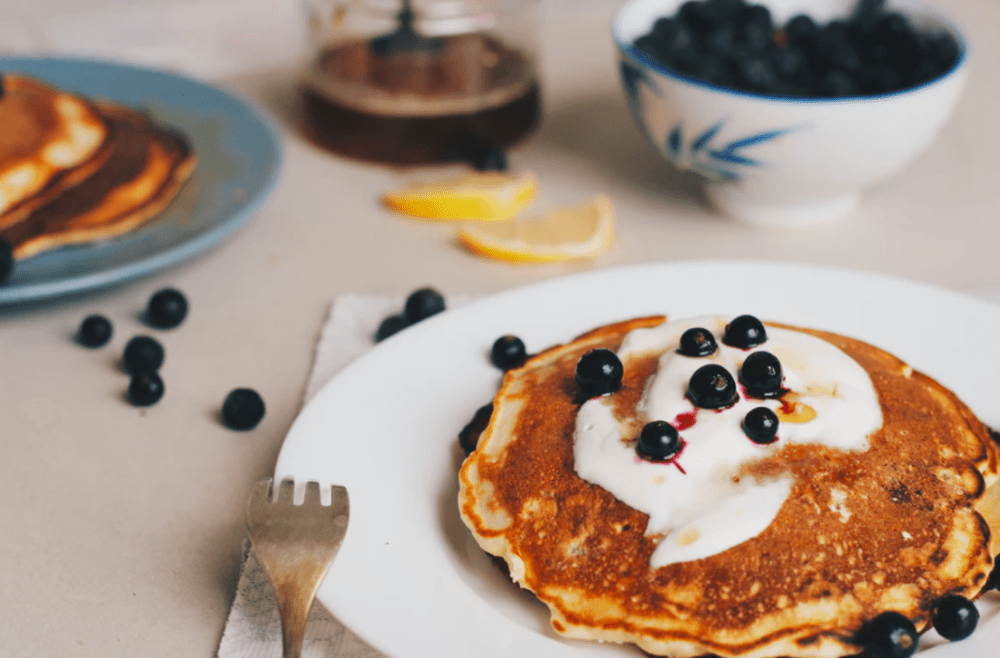 At the bed and breakfast, we get guests from all over the world. Many of them arrive with various dietary restrictions, which calls for alterations to our recipes, or new ones altogether. This vegan pancake recipe was created one morning when two lovely young ladies notified us that they were vegan. The resulting recipe turned out to be even better than the original!
Vegan cooking requires a creative approach to getting enough protein. Many recipes will often add a dash of protein-rich ingredients in unexpected places. In this case, the protein source and key flavor ingredient gets two birds with one stone. The distinct flavor of these pancakes comes from almond meal, which delivers a boost of protein, while superfood flaxseeds add a punch of nutrition and help with batter cohesiveness, usually maintained by eggs. Almond milk and potassium-rich bananas give this breakfast dish even more flavor, eliminating the need for any added sugar.
Every bite is flavorful and full of texture and a little chewiness. Bananas keep these pancakes so soft and moist that you'll be less tempted to reach for the syrup, and the nut and seed meals interspersed with fruitiness keep the texture varied and help you start the day with a dish full of healthy and filling fiber.
A delicious vegan breakfast alternative to your traditional pancakes, these are so delightful that they have become our primary pancake recipe.
THE TASTIEST HEALTHY VEGAN PANCAKES YOU'LL EVER HAVE
SERVINGS: 4
PREP: < 5 minutes
COOK: < 15 minutes
INGREDIENTS:
2/3 cups self-rising flour
1/2 cup almond meal
1/3 cup flaxseed meal
1 tsp baking powder
2/3 cup almond milk
1/4 cup canola oil
1 banana (or 2, if you prefer)
Berries and vegan yogurt for toppings (optional)
1. Heat a pan on medium high. While the pan is heating, mix the self-rising flour, almond meal, flaxseed meal, and baking powder in a bowl.
2. In a separate small bowl, mash the banana. Make a well in the dry mixture and add the banana, almond milk, and canola oil. Mix thoroughly, but allow some banana clumps to remain for a fun texture and flavor. If the batter is too wet, add more flour.
3. Grease the pan with vegan butter. Using a 1/4 measuring cup or similarly sized spoon, scoop the batter onto the pan, leaving a little space between each pancake.
4. Fry the pancakes on each side for a couple of minutes, or until golden brown, then flip over. If the pancakes are falling apart, they need more time. Serve while hot for best results, and garnish with berries and yogurt for a little added sweetness.
Tips and tricks: Without eggs, vegan baking can be tricky--your delicious cupcakes, pancakes, and pastries keep falling apart. Flaxseed meal, banana, and egg replacement powders help, although we prefer to avoid egg substitutes when possible. Why add powders when a nutritious fruit or seed can do the job just as well?
One of our favorite things about running the bed and breakfast is the breakfast itself. Not only is it a delight to serve and share our family recipes with others, but the look of joy on guests' faces when we bring out a stack of waffles or steaming eggs is a wonderful way to start the morning. Of all our review categories, we often score highest for the quality of breakfast. Sometimes we learn new recipes by interacting with guests who come from near and far.
We hope you enjoy this recipe in your own kitchen, or book now and come visit us at ours. There's nothing better than waking up to a healthy, home-cooked breakfast served by a balcony overlooking the mountains before heading out to explore Los Angeles, Santa Monica, Malibu, or the surrounding area!